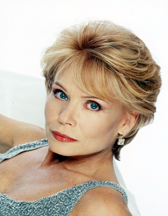 RAISING THE BARR
Julia Barr (Brooke; AMC) on
Soap Opera 451: A Time Capsule of Daytime Drama's Greatest Moments
:

FINALLY GOT A CHANCE TO CHECK OUT THE BOOK. VERY INTERESTING. NICE TO BE INCLUDED IN THE LIST! PLEASE LET ALINA KNOW I WAS VERY IMPRESSED WITH THE BOOK AND HONORED TO BE A PART OF IT.

Thank you to Julia!!! She gave us a wonderful interview on what went on behind the scenes during the storyline of Laura's death by a hit and run driver (the one that won Julia her first Emmy)!

Write your own review on Amazon and get a free soap book as a thank you gift! Details, here.