BEAUTY (AND VALUE) IS IN THE EYE OF THE BEHOLDER
In May of 2011, Spain's anti-trust authorities fined
Procter & Gamble, along with one of their biggest competitors, L'Oreal cosmetics
, over $67 million Euros for conspiring to fix beauty product prices in Europe.
While the
Soap Opera 451
blog is a huge believer in free markets and strongly condemns the above collusion in no uncertain terms, we can't help wishing that, when it came to certain other areas, the two industry giants
had
colluded a little.
Because, while P&G has exited the soap opera business - for now (some of us still cling to the hope they'll come to their senses eventually and revive the brands they've abandoned), L'Oreal USA has partnered with Telemundo to launch the network's first, official telenovela fan club:
www.Clubdenoveleras.com
.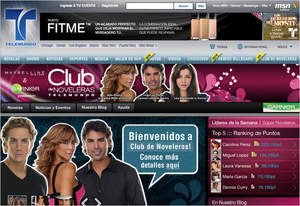 Jacqueline Hernández, Chief Operating Officer, Telemundo announced in a press release, "Consumers will be able to join an online community where they can interact with each other and with their favorite telenovela stars, while also finding rich beauty content including a brand new dedicated beauty blog."
When it comes to finding value in a soap opera watching customer base, boy, what we wouldn't give for a little collusion right about now....