EVANS-LUTION
In May of 1983,
Guiding Light's
Mindy Lewis felt that she wasn't getting enough attention from her boyfriend, Phillip Spaulding. (Considering how much attention Mindy's doting daddy, Billy, paid her, it was and is still unlikely that Mindy would ever find another man's ministrations adequate.) Mindy faked a fall from her horse and ended up in the hospital, where Phillip and best buddy Rick worked as orderlies. Mindy's roommate was a young woman named Beth Raines, played by then daytime newcomer Judi Evans.
Judi recalled of her first day in Springfield, "I was wheeled in on a gurney and I couldn't stop giggling. All bruised and bloodied and I kept giggling because it tickled. It was fun, like being on a ride. They're saying you can't giggle, you're unconscious."
Beth had been beaten up by her stepfather,
Bradley
, a pattern of abuse that began when Beth was a child and culminated with Bradley raping the vulnerable teen.
Judi won a 1984 Daytime Emmy for Outstanding Supporting Actress in a Drama Series for Beth's chilling storyline.
"I'd been on the show nine months when I was nominated," Judi explained. "I was so young and so dumb, I didn't know what an Emmy was. But I was truly excited. It was thrilling. I was shocked. I couldn't speak. The presenter shook me and said you have to say something. And I was crying. I didn't know what to say. Afterward, I felt I had to grow up and prove I was an actress, that it wasn't just pure luck."
Judi played Beth until the character's presumed death in 1986. Later that year, she joined the cast of
Days of Our Lives
as Adrienne Johnson. Adrienne was very different from Beth. Instead of being raped by her stepfather, she was raped by her father. And instead of falling for a spoiled, wealthy but fundamentally good-hearted young man named Phillip who had a controlling father who didn't think she was good enough for him, Adrienne fell for a spoiled, wealthy but fundamentally good-hearted young man named Justin who had a controlling
uncle
who didn't think she was good enough for him.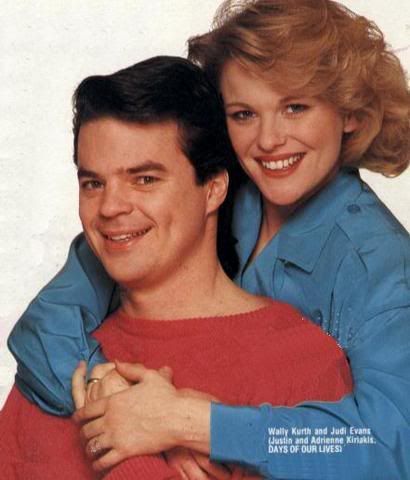 Judi left DOOL in 1990 and presumably decided that this was the end of the road for her on-screen victim-hood. In 1991, she took over the role of Paulina Cantrell Cory on
Another World
. And Paulina rather quickly proved herself to be a woman very different from Beth and Adrienne.
When Jake McKinnon threatened her place in the Cory family, Paulina shot him. (Granted, Adrienne had shot and killed Duke after he raped her, but then she panicked and blocked out the memory. Paulina not only remembered shooting Jake, she wasn't particularly ashamed of it, either.) Jake blackmailed Paulina into marrying him, figuring if he couldn't have his true love, Marley, the Cory millions would make a nice consolation prize.
As Judi described it, "(Paulina) married him, divorced him, and fell in love -- in that order."
To watch the untraditional love story unfold, check
out the episodes of

Another World

currently running on Hulu.com
!