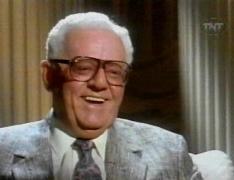 LIFE BEFORE SOAPS: FRED BARTHOLOMEW
Fred Bartholomew directed
The Edge of Night
in the 1950s. He was the Executive Producer of
As The World Turns
1971-1973 and again in the early 1980s, as well as the EP on
Search for Tomorrow
in 1982.
But before he went behind the scenes, Fred Bartholomew was Freddie Bartholomew, one of the most successful child stars of his generation.
Born in Dublin in 1932, Freddie was abandoned by his parents and raised by an aunt in London. After appearing in two movies in England, he was cast as a young David Copperfield in the American feature film of the same name. He went on to appear in
Anna Karenina
(where his English accent and Greta Garbo's Swedish one stood in for Russian),
Little Lord Fauntleroy
and
Captains
Courageous, among other prestigious, usually historical, costume pictures.
In true soap opera fashion, as soon as Freddie became successful, not to mention rich, his parents magically materialized out of the woodwork and sued for custody. They ultimately lost, but so did Freddie -- the bulk of his earning went to pay legal fees. The one time second-highest paid child star in Hollywood (after Shirley Temple, natch) was reportedly very bitter about that outcome.
Bartholomew served in the US Air Force during World War II and, in between television work, went into advertising, eventually becoming Vice President at the Benton and Bowles Agency. He died in 1992.
You can read more about Fred(die) Bartholomew
here
. (Though take the more salacious details with a grain of salt).